Chicago Pay Per Click Management
Pay Per Click Management, set-up and optimization is one of the most poorly executed and misunderstood aspects of Internet marketing. Initially, Pay Per Click advertising is used to increase traffic to a website that is not ranking well organically in the search engines. The data from Pay Per Click campaigns can and should always be used to construct an SEO campaign because Pay Per Click data most accurately tells you which keywords convert at the best ROI.
Chicago Pay Per Click Advertising
Pay Per Click campaigns must be managed carefully, especially in the beginning. I've heard many times from local business owners who have thrown thousands of dollars at Pay Per Click Advertising that after a few months of managing their Per Per Click campaign they realized they didn't know what they were doing and were actually losing money on the deal. If you set up a professionally managed analytics program from the start, you'll be able to stay on budget, get good results and make exponentially better decisions when it comes to your Pay Per Click management and Organic SEO initiatives.
Pay Per Click Consulting (PPC)
Our Chicago pay per click company provides state-of-the-art analytics and conversion tracking software that gives us deeper insight into search behavior so we're able to make better decisions. We provide detailed pay per click reporting that tracks all aspects of your pay per click campaign. We typically measure a PPC conversion as a purchase, an email capture or a phone call. We provide you with your own #800 that's integrated with Google Analytics so you can see how many calls you're getting from our pay per click management and consulting efforts. You get intelligent reports that show definitive results (leads), and that's how we get paid! Call 1-773-564-9988 for a Free Consultation!
Our Clients Pay Per Click (PPC) Conversion Rates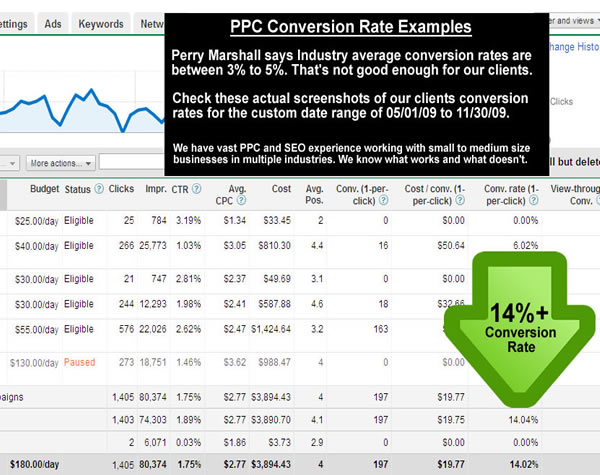 Pay Per Click Management
Persuasive copywriting, landing page design, dynamic keyword insertion, keyword research and testing make up the core of our Pay Per Click Management and optimization services. We care about results and are passionate about what we do. We always strive to make ads more relevant, attractive and have aggresive calls to action. We focus on persuasive copy architecture and A/B split testing to make certain your landing pages convert.

Our Clients Pay Per Click (PPC) Conversion Rates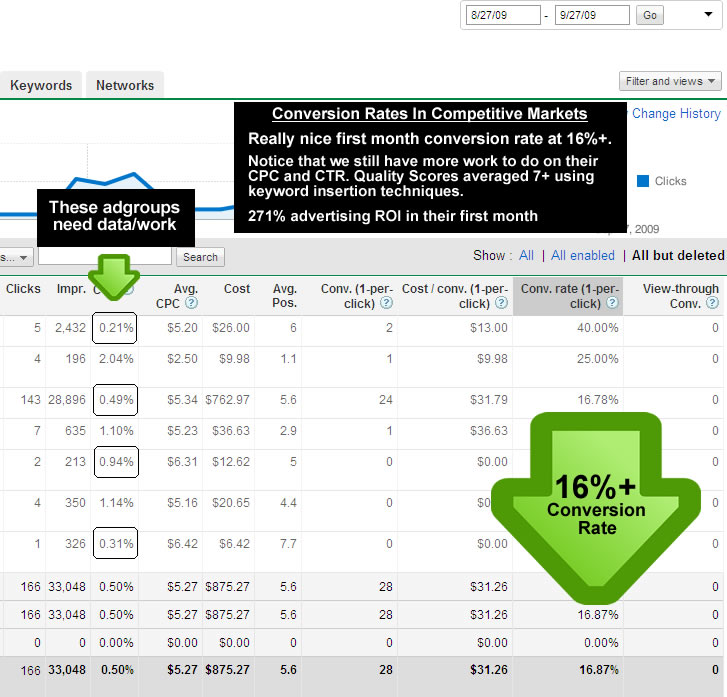 Chicago Pay Per Click Consultants
Our Chicago Pay Per Click Consultants perform a detailed and specific keyword analysis using our custom Pay Per Click analytics and placement tools to expand your keyword bidding list to encompass every variation of search behavior that people have when searching for your products or services online. We offer affordable and professional Pay Per Click marketing consulting that generates targeted traffic.
Pay Per Click Marketing - Nationwide
We listen to our clients and provide a suite of pay per click consulting services for every business type and every pay per click budget.
Pay Per Click Management
Pay Per Click Optimization
Pay Per Click Landing Page Design
Pay Per Click Strategies
Pay Per Click Consulting
Pay Per Click Copy Writing
Pay Per Click Analytics
Pay Per Click Marketing
Pay Per Click Training Courses
Pay Per Click Consulting and Keyword Strategies
Our Chicago pay per click consultants bidding strategies, dynamic keyword instertion techniques (adwords/landing page) and most importantly the landing page design, knows how to deliver targeted traffic to your website that will end with a conversion. We utilize integrated marketing and pay per click optimization and PPC design techniques that ensures you'll get the maximum possible number of sales, leads and subscriptions at the lowest possible cost. Searchoneweb cares about our clients PPC results.
Pay Per Click Management
Our pay per click optimization and PPC management improves bidding strategies, keyword selection, and sales. Chicago based Searchoneweb's Internet marketing professionals continually monitor and adjust every aspect of your Pay Per Click campaign to make sure it delivers maximum results at the lowest possible cost. We know it's crucial for you to have the very best information about your campaign so we provide daily, weekly and monthly pay per click reporting in order for you to make effective marketing decisions.
Pay Per Click Testimonial
I've worked with two other pay per click management companies in the past and I must say it's been a pleasure working with Searchonweb.com. They were professional and really seemed to care about getting the website design perfect. Our pay per click advertising has landed us more leads in 3 months and for a lot less money than advertising in the phone book for a whole year! Thanks again. Todd Scaife - Recruiting Firm, Chicago, IL.
Want To Generate More Leads Online?
Call Today for a Free Internet Marketing Consultation
Call (773) 564-9988